Last Wednesday 9th April, Malcolm Turnbull, Communications Minister and Liberal Member for the Federal seat of Wentworth, ordered NBN Co to cease their deployment of a National Broadband Network based primarily on a Fibre-to-the-Premises architecture and instead switch to their preferred "Optimised Multi-technology Mix" architecture.
Under this plan, only a minority of premises will be connected by Fibre and the rest of the country will have to use existing copper telephone cable infrastructure, HFC Pay TV networks, 4G cellular networks and satellite internet depending on what is available at a customer's location.
See Delimiter:
Along with the vast majority of the Australian IT industry, we consider Malcolm Turnbull's 44.1 Billion dollar plan to be highly wasteful, inferior and woefully inadequate to meet Australia's current and future needs.
We see this decision not being made as the result of an objective assessment performed by qualified telecommunications experts, but rather to spite the previous ALP government who launched the NBN. That is, rejecting policies simply because they came from their opposition. The Liberal party may have had valid grounds to change the management of NBN Co and its tender processes, but certainly not the technology choices.
Last Friday 11th April, Canberra Times cartoonist David Pope published a brilliant cartoon about Turnbull's decision: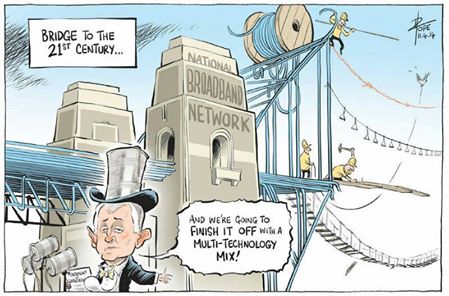 For those who are not from Sydney, the symbolism of this cartoon is immense.
This cartoon depicts the support pylon at one side of Sydney Harbour Bridge – a great Australian landmark known for its robust construction and design excellence.
The road leading up the the bridge is laid with fibre-optic cable – the original solid, future-proof infrastructure that was to comprise most of the original NBN design before Malcolm Turnbull ordered it changed.
But then the fibre stops and the bridge is spanned with the a 'multi-technology mix' that is grossly inadequate for the original purpose of the bridge – carrying cars and trains across it, symbolising the large bandwidth needs that a fibre-optic network is able to accommodate but the other technologies cannot.
The multiple technologies are depicted as follows [from top to bottom]:
A bird on a leash – possibly a symbol for wireless, clearly incapable of transporting anything significant.
A tight-rope with a single man walking along it balancing carefully, holding onto a fibre-optic cable – possibly a symbol for the minority of people who will get Fibre-to-the-Premises under the Coalition's MTM NBN plan.
A flying fox, with all the handles on the same lead – likely to symbolise HFC cable where most subscribers in an area are sharing the bandwidth of a single cable which easily becomes congested when many people are using it at the same time
Wooden planks nailed together
A Rickety rope bridge with falling planks – possibly a symbol for Fibre-to-the-Node over the decrepit, decaying Telstra copper network originally designed only for telephones.
Communications Minister Malcolm Turnbull is depicted announcing his plan and speaking into three tin cans with strings instead of microphones, signifying his obliviousness to the importance of modern technology.