History
RemoteLaboratory.com was founded in 2008.
Mission
To develop innovative technological solutions to integrate the physical world with the online world.
To promote world knowledge and advancement of science and engineering by leveraging the power of the Internet to increase accessibility and reduce barriers to education.
About Vladimir Lasky
Vladimir was the father of the UTS Remote Laboratories, predecessor to the Labshare Project. During his seven years working for the Faculty of Engineering, he served as the Chief Architect of Remote Laboratory Development.
In July 2001, he created the University's first remote laboratory, The Coldfire Lab, which gave undergraduate Engineering students the ability to carry out embedded systems experiments on Motorola Coldfire microcontrollers from any Internet-connected location, without having to be near the equipment.
Following successful trials of the Coldfire Lab over several semesters, four additional UTS remote labs were commissioned and built between 2001 to 2007 – the FPGA Lab, the PLC Lab, Water Level Rig and Loaded Beam Lab. These supported experiments across a diversity of engineering fields including Computer Architecture, Embedded Systems, Control Theory, Industrial Automation and Civil Engineering.
In recognition of his work, Vladimir was a recipient of the UTS Teaching Prize in 2005 and received a citation from the Australian Learning and Teaching Council [Carrick Institute] in 2006, for innovation in Teaching and Learning.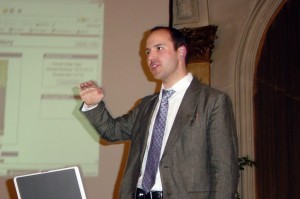 He has presented at the IASTED Conference on Web-based Education (WBE2007) held in Chamonix, France in March 2007; the 2nd Pan Australian iCampus Workshop, held at the University of Queensland St Lucia Campus in July 2007 and the International Association of Online Engineering (IAOE) 10th International Conference on Remote Engineering and Virtual Instrumentation (REV2013) held in Sydney, Australia in February 2013.
He is a member of the the International Association of Online Engineering (IAOE).